Annual Membership Renewal TIME IS NOW: Go to our "About JKHF" link on the left side of this page for details on how you can put wind beneath our historical preservation wings. Send your contribution to JKHF P.O. Box 37 Kendrick ID 83537.
~~K-J and area Newspaper Collecting-Microfilming-Digitization-Web Publication: This project involves digitizing the 47 reels of Idaho State Historical Society microfilmed publications with the added ability for a subject search. Juliaetta and many Kendrick newspapers (totaling 45,000 pages) are currently available on the left side "Newspapers" link on this page. More project details are also available at that location. Thanks to a National Historical Publications & Records Commission grant and Latah County Arts and Culture Committee Nov. 2014 funding this project has moved forward.
Another local purchase location for our publications: Simple Joys Antiques & Gifts 609 E. Main, Kendrick. Open: T, W, TH 10 - 5, F & Sat. 10 - 6.
Juliaetta's historical facts and pictures are currently being compiled for a 2014 DVD and booklet publication to complete our historical tour updating project. Juliaetta Historical Tour site signage is in place. Thank you Statewide Education Philanthropic Gift Fund in the Idaho Community Foundation and Latah County Arts & Culture Committee for project completion funding. We are striving for a December 2014 publication availability. See "Project Details" left side link on this page for more information on this project.
We NOW have a FACEBOOK presence at Juliaetta - Kendrick Heritage Foundation link! Please join us as a friend.
Kendrick Historical Tour Booklet AVAILABLE for $5.00.
The 40 selected Kendrick businesses and early homes in this 36-page publication can be viewed with a click on the above link. Pictures, unique tidbits of information, and vivid descriptions all contribute toward an understanding of what and who played a part in establishing and sustaining Kendrick beginning before 1890. A booklet map allows for a walking and/or a vehicle tour. Purchase locally at Kendrick Hardware, Red Cross Pharmacy, Phil's Food City, Archie's Diner, the Corner Club Cafe and Simple Joys Antiques & Gifts. For a mailing add $1.00/booklet mailed. Guided tour rates are available when tours are requested with a contact to Sharon Harris (see her contact at bottom of page).
Find MORE "JKHF Publications" information go to the left side link on this page.
2014 PROJECT Contributions:
PROJECT--"HOME" Overview: Thank You -- Clearwater Power Company & Potlatch Corporation & TDS for 2nd Floor Fraternal Temple 2014 electrical and cooling grant funding gifts. Moneysaver contributions also has helped with Fraternal Temple main level front entry repairs. See "Project Details" left side link on this page for more information on this project.
PROJECT--"Brick Repair" Overview: The Fraternal Temple building's 1905 external brickwork is only one unique feature that lead it to be placed the National

Register of Historic Places listing. This project corrects critical external needs centered around supporting bricks, windows, and roof drainage. Community support can be provided either with a JKHF designated project contribution or through the Buy- A -Brick fundraiser ($50.00/brick that can accommodate up to two names). Thank You -- Northwest Farm Credit Services, Inland Northwest Community Foundation's -- Community Strategies Grant, and J-K Recreation District for 2014 funding for this project.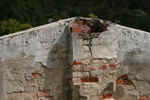 Kelly Emo completed on Oct. 10, 2014 a big part of Phase 4 determined needs. Removing 100 years of moss and dirt with spray washing caused us to view additional critical brick repair areas thus re-evaluating spending priorities. The acquired $18,000.00 allowed him to repair roof drainage & par-pit wall issues and fill wall cracks & holes. Now 3 1/4 walls have all "critical" supporting areas repaired. With $30,000.00 additional funding the balance of the TDS facing wall will be structurally sound and 18 windows will be restored and painted blocking bats, insects and the weather from entering. See "Project Details" left side link on this page for more information on this project.
Find MORE 2014 " Project Details" go to the left side link on this page.
---
Local PHOTO Viewing BUSINESS LOCATIONS: Our digital photo units display local historical pictures at:
Colters Creek Winery - Tasting Room -- 308 Main St. in Juliaetta Idaho -- shows mainly Juliaetta area pictures

Koffee Kups -- 704 E. Main in Kendrick Idaho -- shows mainly Kendrick area pictures
---
General CONTACT & Publication Purchase INFORMATION:
Telephone & E-Mail contact: Sharon Harris, President (208) 289-4622 25skharris@gmail.com (changed June 2013)

JKHF Physical Address (make appointment): Fraternal Temple building 2nd floor -- 614 E. Main St. -- Kendrick Idaho

JKHF Postal address: P.O. Box 37 Kendrick, ID 83537
Webmaster: waider@tds.net